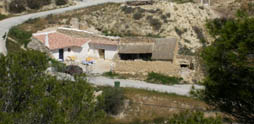 Now available to rent
Our
casa cueva
is in the small rural village of La Teja in the province of Andalucia. We are one and a half hours drive north east of Granada, and our nearest large town is Baza. The house sleeps up to 11 people.(5 doubles, 1 small single en suite to a double and 1 child size space, plus two bathrooms)
In addition to the BBQ in the kitchen, there is a fire pit to use outside, and it's wonderful to sit around in the evenings under the stars and just be.
Directly opposite the cave we have a small almond orchard, and views to wooded hills and distant mountains.
Cave Houses
The majority of traditional rural houses in the area are fully or partially underground, cut into the impermeable clay of this hummocky landscape. They are cosy and dry with the great advantage of maintaining a near constant temperature year round, so you can enjoy hot summer days and comfortable cool nights.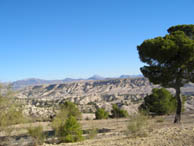 The area
La Teja is positioned on the border of two very different terrains. Below is the
Altiplano
, a mountain-ringed high plateau with weird lunar landscapes and green oases, and dominated by the solitary mountain
Jabalcon
and the unearthly turquoise lake
Negratin
.
To the north, scented pinewoods lead up to the spectacular rocky sierras of
Cazorla
and
Castril
and more green lakes.
Although there are a few British residents and holidaymakers around, this is truly the much sort after 'Real Spain' - much of the area has a rather back-of-beyond feel, which we love.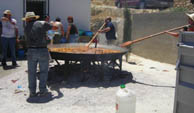 The local people are very friendly . We are told there is one English resident in the village. If you are there during fiesta time in July the whole village gets together and has an amazing time with a band, costumes, refreshments and cooking for many many people.
Rental charges.
The cost of hiring the cave is £350 - £450 per week depending on the season for four people with an additional £50 per extra person per week. For children under 12 years of age there is no charge. The only limitations on the use of the cave are that it is a non smoking area and pets cannot be accommodated.
(As of October 2014)