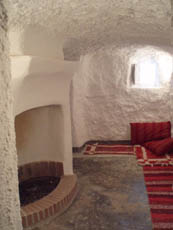 CAVE HOUSE
Mother Earth's retreat
What can be more natural than living within the materials that mother earth has given us? It keeps us warm when cold outside, cool in hot weather and dry when it's raining.
If you're feeling a little chilly, what better way to warm up than to build a fire in the open fireplace in the snug, or to get the wood burning stove going? Even just to watch the fire makes you feel warm and cosy.
If you want to eat out there are pavement cafes and restaurants in the neighbouring villages 10 minutes drive away, and there are a variety of restaraunts at and near the lake.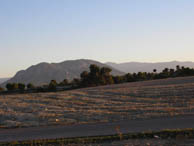 Mount Jabalcon is the closest of the mountains around. Sometimes clothed in low cloud and at other times cryatal clear to the view. On a clear day the vista is spectacular from the summit. There are BBQ areas on the summit for those who wish to cook and eat on high places.
This view is of the mountain in the evening with the sun going down.
A drive to the pine forest at Lake Bolera and a walk up through the woods and you come to a little hut used by the ranger, on the edge of the woods over looking the begining of the lake. The views are again very special, from the densely forested hill sides down to the floor of the valley to the other side of the lake and beyond.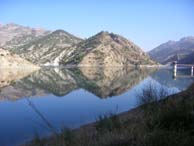 As you drive into Castril the reflected images in the reservoir of the mountains around Castril is truly a sight not to be missed.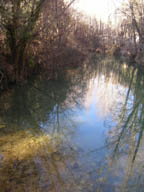 The Rio Cstril in the Parque Natural de la Sierra de Castril is refreshingly cold on a hot day, being fed by the surrounding mountains. The journey to the river is a wiggly waggly ride on a sometimes narrow track down to the valley floor. It is a spectacular ride but is not for the faint hearted or those who suffer from vertigo. However, at the end of the track is a hikers bar/restauraunt which serves good reasonably priced food.